If you'd like a printable list of all Gwyn Cready's books, click here.
Flirting with Forever is a standalone time travel romance published by Gwyn Cready in 2010. You can order it through one of these fine booksellers: Indie Bound, Amazon, B&N.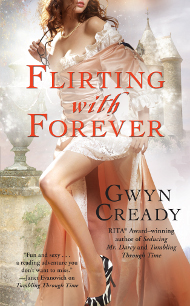 In RITA® Award–winning author Gwyn Cready's fun and sexy new time-travel adventure, an ambitious writer discovers that bad-boy painters are as timeless—and irresistible—as their art. . . .
Art historian Campbell Stratford is about to make a name for herself with her scandalously sexy tell-all "fictographies" of famous seventeenth-century artists, but she's more intimately familiar with her subjects than her eager readers can imagine. Thanks to a time portal she accidentally discovered, she has caused quite a stir in the Great Beyond. To save their reputations, the Guild protecting dead artists convinces playboy Peter Lely, portraitist to the king, to sabotage Cam's latest project. A few hours posing on Sir Peter's modeling chaise leads to a night of seductive passion—then Cam returns home and discovers his betrayal. But before she can turn her angry pen on her lover, Sir Peter makes a surprise visit to the future and transforms Cam's twenty-first-century life into chaos of classic proportions. . . .
"A compelling romance that will leave readers breathless. STARRED REVIEW." — Publishers Weekly
"A wonderful jaunt through time. FOUR AND A HALF STARS." — Romantic Times