Hey, there. If you want a printable copy of all of Gwyn Cready's books, click here.
Timeless Desire is a standalone time travel romance that came out in 2012. You can order it through one of these fine booksellers: Indie Bound. Amazon. B&N.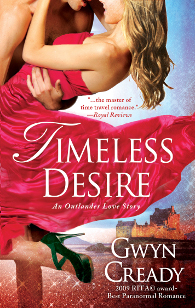 Two years after losing her husband, overworked librarian Panna Kennedy battles to distract herself from crushing grief. During a routine search within the library, Panna opens an obscure, pad-locked door and finds herself transported to the magnificent, book-filled quarters of a handsome, eighteenth-century Englishman. The man is Colonel John Bridgewater—the historic English war hero whose larger-than-life statue looms over her desk. However, the life of the dashing Bridgewater is not at all what she imagined. He's under house arrest for betraying England, and now looks upon her as a possible spy. Despite bad first impressions, Bridgewater warms to Panna. She is thrown into a whirlwind of high-stakes intrigue that sweeps her from Hadrian's Wall to a forbidding stone castle in Scotland. Written in her signature style—described as delightfully original, fun, and sexy—RITA Award-winning author Gwyn Cready produces yet another lightning-paced, delectable winner of a time-travel romance—a genre she has quickly come to master.
"Thrill ride of a time travel romance, a genre Gwyn Cready has quickly come to master" — Saph's Steamy Books
"A time-bending treat" — Full Moon Bites